"When you're not interested in a complete renovation, but something needs to be done, Vevex can provide that something"
Vevex Oy is a Finnish family business specializing in bathroom maintenance. It operates in Pirkanmaa, Uusimaa and Southwest Finland. Vevex specializes in extending the life of bathrooms by providing maintenance and protective coatings. They have experience from thousands of bathroom maintenance projects with private and business customers. The idea is to restore the bathroom surfaces to good condition, because the surfaces will get into a bad condition before the technical lifespan of the bathroom ends.
We interviewed Anton Eriksson, the CEO of Vevex, about the ways in which Click2Contract has changed their work.
How did Vevex make proposals and contracts before?
"At first, they were made with carbonless copy paper at the customer's premises and a copy was left to the customer. After that we started to send them to the customers after our meetings, at first by traditional mail and then by email using Excel and Word. Then we moved on to use Click2Contract," Eriksson describes the evolution of making proposals at Vevex.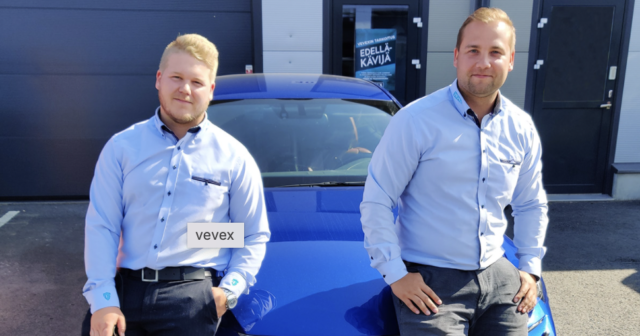 How has Click2Contract changed the way you work?
"Proposals are in one place. When the salespersons used Excel and Word, they saved the proposals on their own computer and then to a shared folder. From there, the invoicing team could find the confirmed proposals," Eriksson explains the old process.
"Now we can use ready-made texts with Click2Contract. Cover letters are all set, and processes are consistent. There isn't that much salesperson-specific variation anymore."
According to Eriksson, proposals are now made much faster. Click2Contract has simplified the process because you can edit the original proposal and don't need to make a completely new one from scratch. The old proposals don't stay in the sales funnel to haunt the sales team.
Have you noticed any unexpected benefits from Click2Contract?
"Adding a link to the proposal is easy in Click2Contract, so now we can add the option of an installment plan to the proposal. We couldn't add it in the old proposal template. Having the proposals in one place is important to us."
"With Click2Contract, you get a nicer proposal than with Word and paper and you can add much more information and video in it. It's in a completely different league than other proposal templates. Many customers have praised the clarity of the proposals," Eriksson concludes.
Thank you Vevex and Anton Eriksson, it's a pleasure doing business with you!
In the photo, CEO Anton Eriksson on the left and Sales Director Toni Kuismin on the right.